HUAXIA E-NAMING CENTRE 华夏起名苑
华文取名 好名好运
All parents wish to give their babies a name with profound meaning. A suitable & unique name for your baby will mean a good start to his or her success and happiness. Based on your child's time of birth and combined with the five elements, Master Fu will choose the most suitable name for your baby.
每一对父母都希望给子女最具深意的名字,一个合适而又与众不同的中文名字带给宝宝人生的最佳开始。华夏取名大师结合宝宝的出生日期,时间,排出宝宝五行,搭配姓名学笔画,为您的宝宝选择出最合适的中文名字。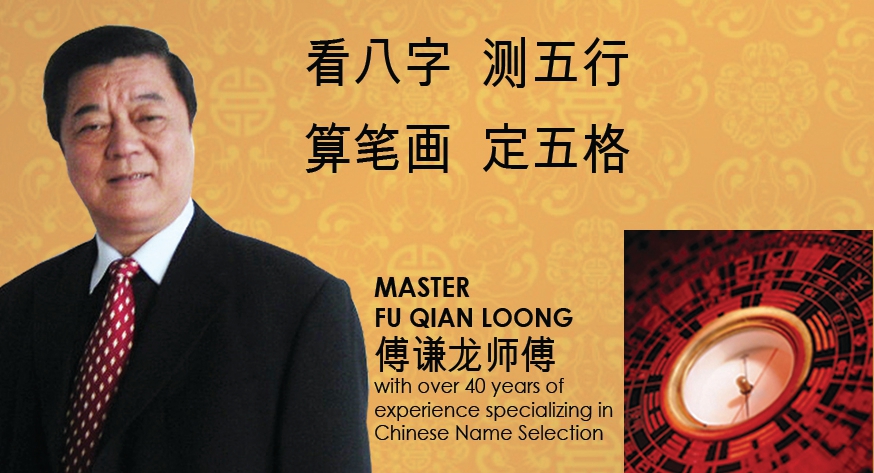 1.WHY IS THE DATE OF BIRTH, EIGHT CHARACTERS & NUMBER OF STROKES IMPORTANT IN CHINESE NAMING?
From the "Theory of Surname", a person's date and time of birth together with the eightcharacters of his/her horoscope are closely associated with the FIVE ELEMENTS-metal,wood, water, fire and earth. Each element has influence over his destiny.The strength of each element is judged by the eight characters which also determine if the " sun pillar" is vigorous or weak. With this information, care is taken during the selection of Chinese characters to reinforce the weaker aspects and suppress any excessive forces.In addition, the number of strokes that form each character has to adhere to rules derived from the FIVE patterns-heaven,human,earth,external and overall pattern-for more of good luck and less of ill-luck.
1.为什么出生日期、八字及笔划对取中文名字如此重要?

从姓名学角度出发,一个人出生的时间(生辰八字)意味着一个人的先天五行(金,木,水,火,土),以及影响一个人一生的命运。
根据八字看五行含量,日柱旺衰,起名时要补偏救弊,扶弱抑制选择每个字,并根据每个字的造字数理算出五格(天格,人格,地格,外格,总格),趋吉避凶。
2.WHAT SORT OF NAME IS CONSIDERED "BEAUTIFUL"?
For a name to be deemed beautiful, it must consist of five (5) aspects:
2.1) Pleasing to the ear: Like music, a nice name is like a song.
2.2)Pleasing to the eye: Structurally well-distributed, a nice name is like a good picture.
2.3)Nice to read: It makes reading smoothly, a nice name is like a poem.
2.4)Nice to write: A nice name is easy to write and flows naturally and smoothly.
2.5) Meaningful: It gives best blessings and it reflects on your personal taste and interest.
2.什么样的名字才是好名字?

如果想让名字显得美丽动听,最好包括以下五个元素:
2.1.好听:如音乐一样悦耳动听,好的名字似一首歌。
2.2.好读:读起来朗朗上口,好的名字似一首诗。
2.3.好写:好的名字写起来运笔流畅,如行云流水。
2.4.好看:看起来结构均匀整齐,好的名字似一幅画。
2.5.好意思:好的名字可以是座右铭,可以是美好的祝福,可以表达名字主人独特的情趣。
3.WHAT ARE THE CHINESE NAMES OR CHARACTERS TO AVOID?

3.1) Avoid characters associated with undesirable meanings.
Characters with undesirable meanings like "ugly", "fierce", "evil", "suspicious", "disabled","derogatory", "arrogant", "boorish" etc. will have negative influence on their bearers.
3.2) Avoid characters that are complicated, rarely used or do not exist.
Names with such characters may cause unnecessary misunderstandings and become a major obstacle to one's progress and success.
3.3)Avoid names that are difficult to pronounce or catch.
Such names are often results of combining Chinese characters, that require similar articulations, which make it difficult for them to be pronounced smoothly and clearly.
3.4)Avoid using the names of famous personalities or celebrities.
This is a common mistake made by many parents who wish their children to be as successful especially in the same or similar industries as these famous personalities or celebrities. However, this may hinder the development of the child whose interests and strengths may lie in other fields.
As every child is unique and talented in different ways, it is still best not to associate the child with any overpowering figures.
3.5) Avoid names that are commonly used or simplistic.
While names should not be too complicated, commonly used or simplistic names will give the impression that one is not as serious or capable, such bearer is less likely to be respected by others.
3.6)Avoid names meant for the opposite gender.
Naming a boy with a girl's name or vice versa will create confusion and may undesirably cause the bearer to be confused with his or her sexuality.
3.起名时需要特别注意哪些问题呢?

3.1) 忌用不良意义的字。
3.2) 忌用繁难,怪僻,生冷的字。
3.3) 忌用"绕口"的名字。
3.4) 忌用伟人、明星的名字起名。
3.5) 忌用"直白","浅薄","俗气"的名字。
3.6) 忌用性别错乱起名。
4.NAMING TIPS FROM HUAXIA E-NAMING CENTRE

4.1. Before seeking help, it is best that parents decide on the articulation they prefer so that the final name provided will not deviate by too much.
4.2. If there are disagreements over the Chinese name among family members, it is best to seek experts' opinions on the best name for your child.
4.3. It is best to decide your child's name earlier before his or her first month.
4.4. If you wish to change your child's name, try to do it before he or she turns one so as to avoid the complicated legal filings required.
4.华夏取名小提示
4.1) 找专业的师傅取名或自己察看书籍之前,先想好一些符合心意的发音,这样便于有一个基本方向,取得名字就不会和你希望的相差太远。
4.2) 如果家庭成员意见有分歧,不妨征求专业师傅的意见,测算哪个名字最好。
4.3) 尽早为宝宝取定名字,不要等到满月才匆忙决定。
4.4) 若有给孩子改名的打算,最好在他一岁前进行;否则在法律上需要较复杂的手续。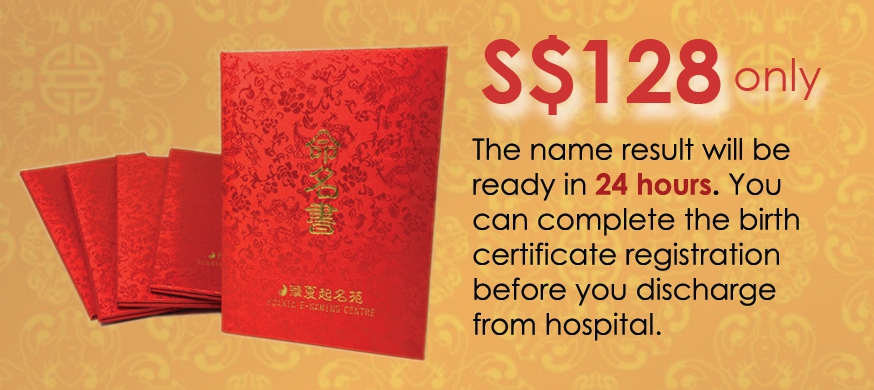 5.What Chinese naming packages and what's the charges does Huaxia E-Naming Centre have?
Based on the owner's birth date and time, Huaxia E-Naming Centre provides the below naming services:
* Basic Naming Package ($128):
Analyze "Ba Zi "and five elements meantime match the stroke of characters, provide 10 auspicious names for selection.
* Advanced Naming Package ($198) :
Consist of the basic naming package and a 6 page detail book to analyze the final name you choose for birth register.
* Name Test Package( $68):
Calculate your "Ba Zi" and five element and analyze your current name.
* C-Section Date Choose ($128):
Give two best choices on the date and time for baby birth.
5.华夏起名苑有什么取名配套服务?
华夏起名苑傅谦龙大师根据宝宝出生的年月日时,排出宝宝八字,算出其五行,搭配好最佳笔画,给出您系列佳名选择。根据客人不同需求,华夏起名苑特推出以下配套:
* 常规取名配套($128):傅谦龙师傅根据宝宝八字,五行,笔画,给出十组佳名选择。
* 综合取名配套 ($198):先拿到常规取名配套,再等客人选出最适合名字后,展开五格八字解析,给出后天补救措施,制成六页精美命名书。
* 测名服务($68) :根据八字分析现有名字五行笔画凶吉。
* 择吉日吉时生产配套($128):在医生专业指导建议下,搭配父母八字,选出最佳两个吉日吉时供选择。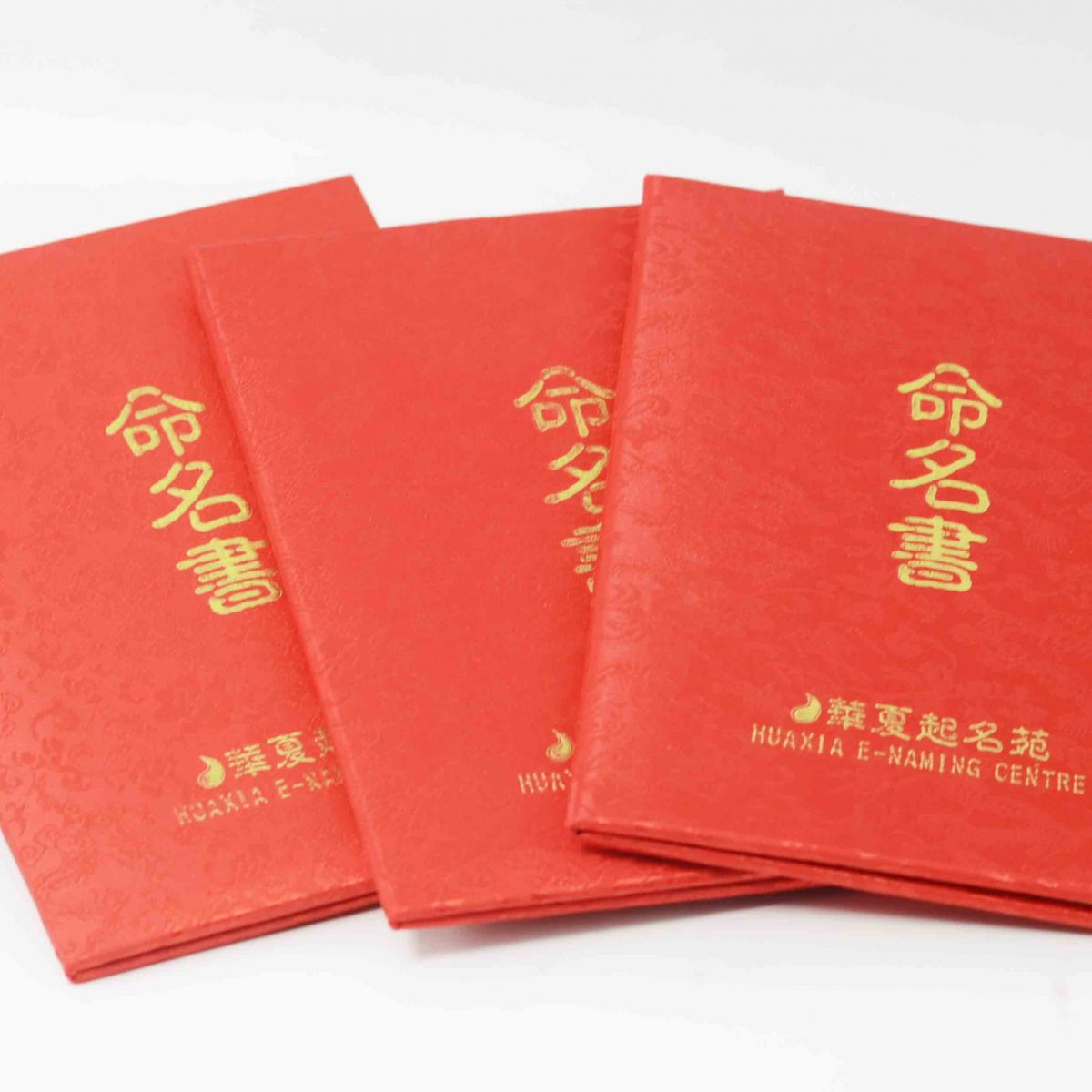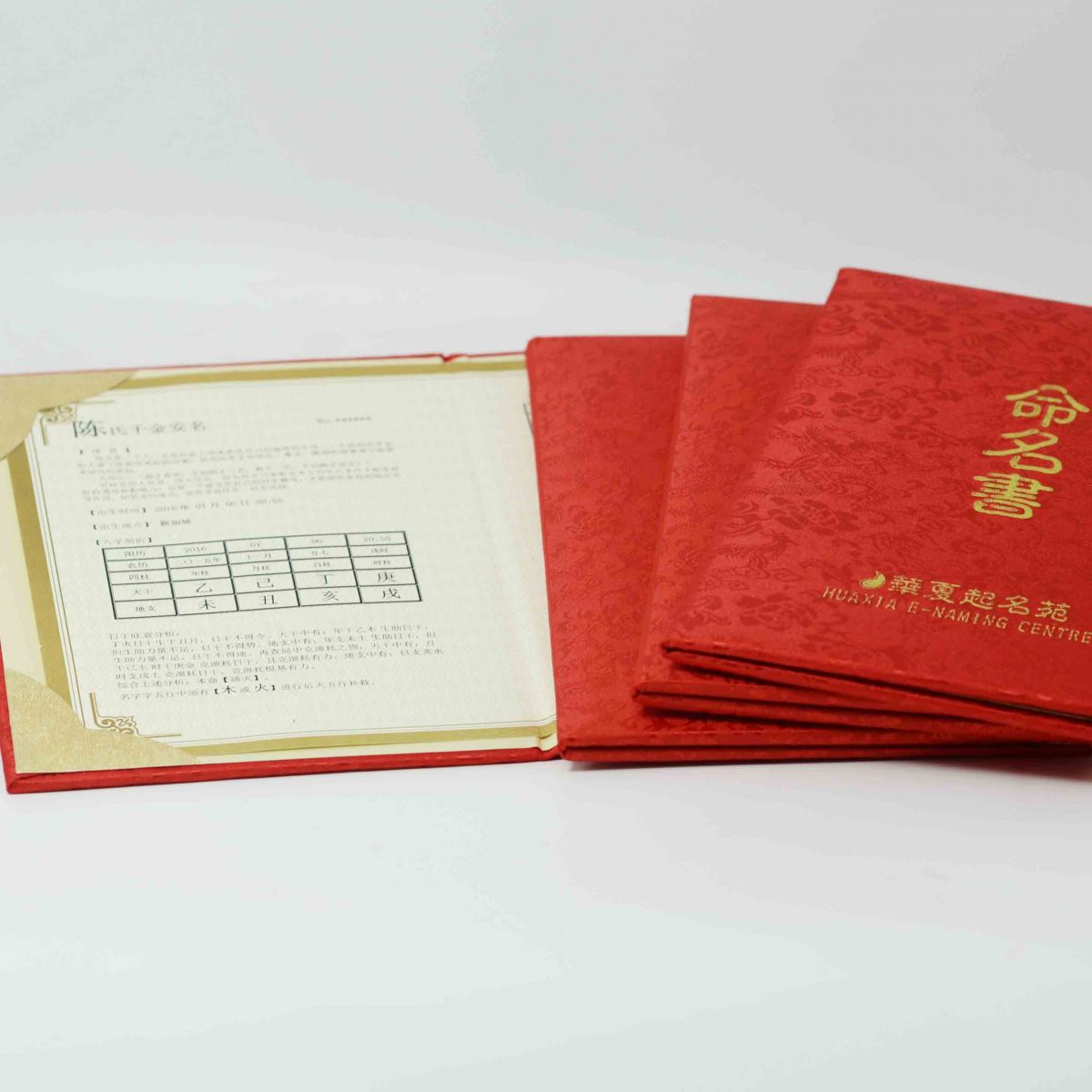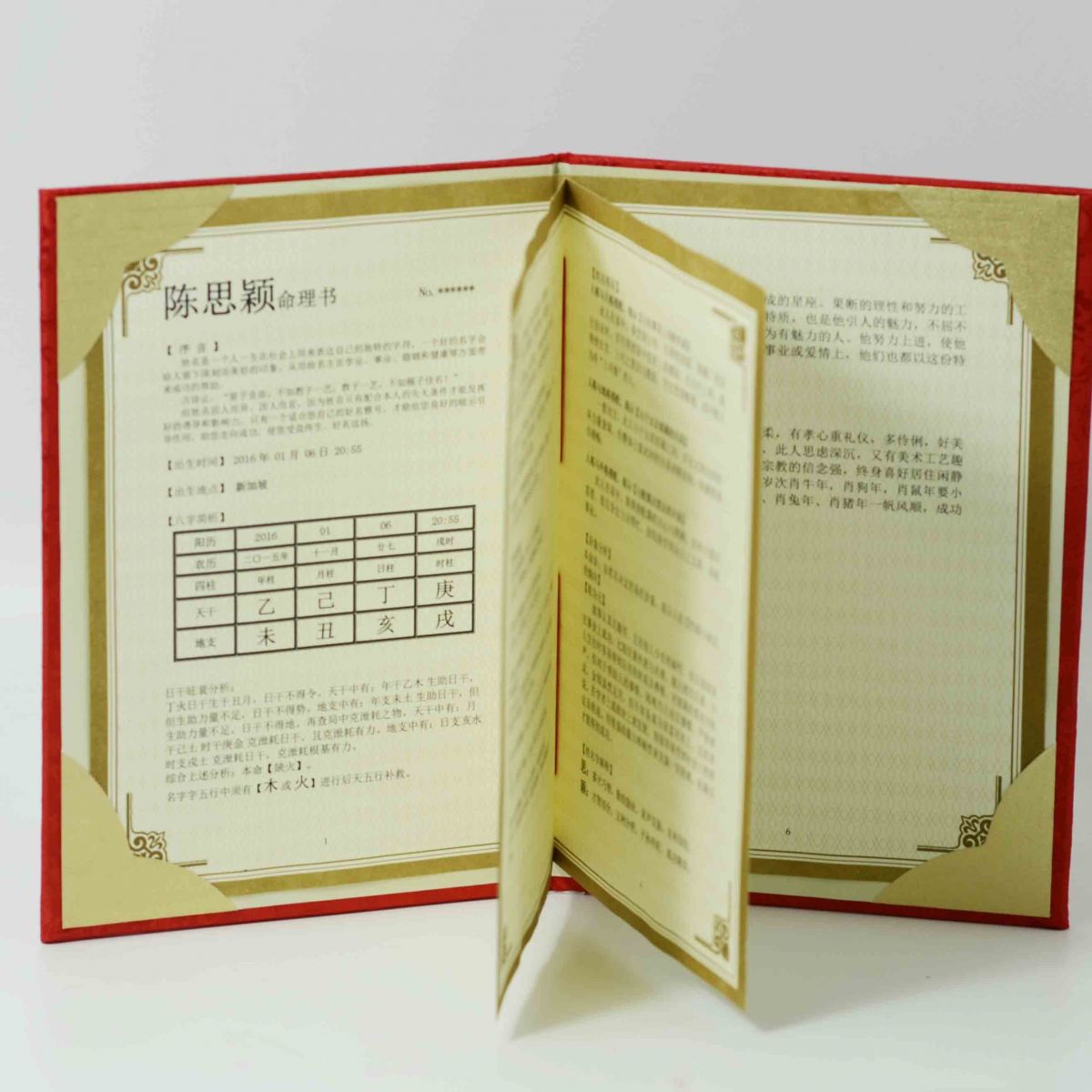 6.WHAT DETAIS SHOULD I PROVIDE FOR BABY'S CHINESE NAME APPLICATION?
To engage Huaxia E-Naming service, you need provide us the below baby birth details:
6.1)Baby birth date and time 6.2)Gender 6.3)Parents' Chinese names 6.4)The characters you prefer in your mind 6.5) Characters that want to avoid, eg immediate family members names like grandparents' names etc
6.给宝宝申请华文取名,需要提供哪些资料给傅谦龙师傅?
批算华文名字,华夏起名苑需要父母提供以下资料:
6.1)宝宝的出生年月日时(阳历)6.2)宝宝的性别6.3)父母亲的华文名字6.4)父母心里喜欢的名或字6.5)希望要避开的直系长辈名字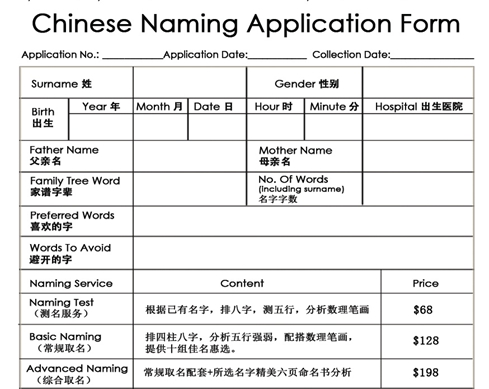 7.HOW LONG CAN I GET THE NAME RESULT AFTER MY APPLICATION SUBMISSION?
It will take only 1 working day for our naming master fu to calculate and give the best auspicious Chinese name result to customers. So it will be very convenient for you to register the baby birth certificate just before discharging from hospital.
7.华夏起名苑需要多久时间给出取名结果?
华夏起名苑傅师傅只需要一个工作日算宝宝的华文名字,便于客人在出院之前可以在医院做宝宝的报生纸。
8.HOW TO ENGAGE THE CHINESE NAME SELECTION SERVICE FROM HUAXIA E-NAMING CENTRE?
8.如何订购华夏E-NAMING Centre(s) 的取名服务?

You also can visit any of our shops to submit your Chinese Name Application Form to us.